Paddles
Rockpool Kayaks
– The one stop shop for wing paddles for the modern sea kayaker –
With the popularity of the modern fast sea kayak designs it is crucial to get the right paddles to match your kayak with your paddling style. Wing paddles will increase your efficiency allowing you to go further and faster – or cover the same distance for less effort!

The Epic mid wing has become a regular choice within the wing community; used by fitness, racing and touring paddlers alike, this powerful and smooth design is ideally suited for sea paddling. The stable handling maximises paddling potential, longer distances for less effort! Need help choosing shape and size? Then try the excellent Epic paddle wizard.

Designs:
Small Mid Wing

Mid Wing

Mid Large Wing

Large Wing
Constructions: Carbon
Shaft: Adjustable - oval
Tips: Composite
RRP: from £324
---

New Zealand manufacturer Legend has an extensive background in sea paddling and multisport racing which has led them to provide a wide range of user friendly performance designs for moving water use. Legend paddles have won numerous long distance races back home in New Zealand and have been used internationally for many years by the New Zealand Whitewater team. The Legend designs are matched with their innovative stainless steel tips to provide excellent performance combined with impressive durability.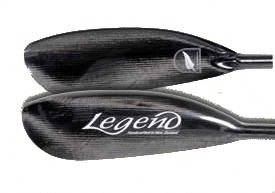 Designs:
Wild Water

Marathon

Fluid

Fusion

Hydra

C22

Magama (due April 2012)
Constructions: Carbon
Shaft: 1 piece or adjustable - round
Tips: Stainless steel or Kevlar

RRP: from £311 - £363
---

Braca have one of the longest histories of wing paddle development, going back over 20 years. Since 1991 Braca wings have won more than 250 gold medals at World Championships and Olympic finals. With excellent quality at a good price, these paddles are an excellent choice for the performance paddler.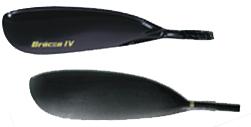 Designs:
Braca have a very extensive range of designs which allow you to fine tune your choice and find the paddle that meets your needs and paddling style exactly. All Braca models are available in different blade sizes.
Constructions: Semi Carbon or Carbon
Shaft: Adjustable - round
Tips: Kevlar

RRP: from £240 - £294
---

Rockpool continue to stock the popular Zastera paddles. They combine many years of international race experience with innovative constructions to provide quality wings at a practical price.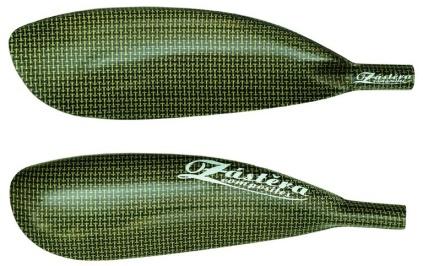 Designs:
Burton

Rasmusson

Z series (I,II,III)
Constructions: Kevlar/Carbon – Carbon
Shaft: 1 piece or adjustable – round
Tips: Alloy or Kevlar
RRP: from £247-£296
---
Also available are 'flat' paddles from each of the above manufactures.
Do I need metal tips?
Paddle tips are often reinforced to minimise wear and prolong the life of your paddles. Metal tips have better wear resistance than Kevlar but require maintenance now and then. If they become badly damaged metal tips can be difficult to repair.
Stainless steel tips are suitable for salt water and freshwater use, though they may still suffer a little from corrosion when exposed regularly to salt water.
Alloy/Aluminium tips are only recommended for fresh water use as they are susceptible to salt water corrosion.
Kevlar tips are free from corrosion in either salt or freshwater but are not as robust as either of the metal tips. They require less maintenance and can be easier to repair if damaged.
Splits or one piece shaft?
2 piece splits give more convenience; they allow you to experiment with your feather angle and paddle length to fine tune your paddling style. They also allow adjustment of paddle length to cater for different conditions or when swapping between different boats. Split paddles have a couple of downsides: the joining mechanism adds stiffness and weight to the paddle; it can also suffer from wear and tear over time. For this reason we recommend that multi-piece paddles are only broken down into sections when really necessary. If you take them apart every time you pop them in the car they are more likely to suffer from wear and tear in the long run.
1 piece paddle shafts have the advantages of no joint mechanisms to wear or fail. They are also likely to be lighter and less stiff than corresponding multi-piece shafts. Obviously the down side is that the length and feather angle is permanently fixed.
Cranked Shafts?
We do not supply wing paddles on crank shafts. However, we can supply unassembled blades (not mounted on shafts) if you would like to mount them onto your own crank shaft.
Shaft Stiffness?
This comes down to personal preference to some extent. But generally we would recommend a flexible rather than stiff shaft for sea use. If you try pushing a loaded sea kayak into a head wind using a stiff shaft then eventually something has to give – and generally that will be your wrists!
Blade size?
If you are moving from flats to wings you will probably find that wings feel more 'solid' in the water with less slip than your previous blades. Most wing paddles have evolved from a race background; sea kayaks as a whole tend to have more drag than most race boats so recommend that you opt for a smaller rather than a larger blade area when choosing your wing.